Cover image: L. Vdovii (source)
Many a Eurovision fan rejoiced when Moldova selected none other than the much-loved folk-punk heroes Zdob și Zdub to represent them for a 3rd time at the Eurovision Song Contest this year. Having represented Moldova at their first ever Eurovision in 2005, the band's identity is now closely linked to the country's legacy at the contest. But Zdob și Zdub also represents something else for Moldova: they just happen to appear at Eurovision whenever the political winds in the country shift westward, toward Europe and away from Russia.
The history of Moldova is one of a borderland. For centuries, the region once known as Bessarabia was fought over by Empires from every direction – Ottomans, Russians, Germans – with sporadic interludes of independence and a brief union with Romania, before becoming the country we know as Moldova today.
Much like its neighbor, Ukraine, Moldova has spent the years since independence from the Soviet Union in a balancing act between East and West, shifting its orientation between the two spheres without fully joining or disengaging from either. Given that social attitudes can affect who is chosen in a national Eurovision selection because a message (or even just a vibe) happens to resonate with the public at that moment, these political shifts are often reflected in the country's Eurovision entries.
When Moldova debuted at the contest, its relations with Russia were at an all time low due to the latter's refusal to remove its troops from the breakaway region of Transnistria. Enter Zdob și Zdub, clad in a mix of traditional fabrics and punk-rock styling, who brought their unique blend of Moldovan folk-punk to the Eurovision stage with the Romanian-language "Boonika Bate Toba." The symbolism of Moldova introducing themselves to Europe with a Romanian-language song and a very local sound points to a pretty clear rejection of their former overlords, if not an outright showcase of their cultural and linguistic ties to their Romanian neighbors, who were already well on their way to joining the European Union.
Zdob și Zdub performing "Boonika Bate Toba" in Kiev, 2005 (Source).
A major political shift in Moldovan politics also happened to coincide with what many in the Eurovision community might consider "Peak Moldova." In 2009, for the first time since independence, the Party of Communists lost its majority in the Moldovan parliament and was pushed into the opposition by a coalition of parties calling themselves the Alliance for European Integration. That same year, we got Nelly Ciobanu's iconic "Hora din Moldova," another song that highlighted Moldovan folk traditions and was sung in Romanian. In the subsequent years we got our first taste of Sunstroke Project and their Epic Sax Guy, the return of Zdob și Zdub, Pasha Parfeny's turbofolk anthem "Lăutar," and Aliona Moon's "O Mie," the last Moldovan entry sung in Romanian until 2022.
Then came 2014. Despite ratifying an association agreement and an agreement on visa free travel with the EU, the pro-European coalition suffered a massive blow in that year's parliamentary elections, with the pro-Russian Party of Socialists winning the most votes and the pro-European parties being unable to form a coalition. Instead, a compromise between two pro-European parties and the Communist Party led to a fragile minority government, whose hands were tied on the country's geopolitical future. Two years later, the pro-Russian Igor Dodon won the Moldovan presidency.
This eastward turn in Moldova's politics also coincides somewhat with what we might call the Kirkorov Era of Moldova at Eurovision, when the eccentric Russian superstar began his involvement with Moldova's participation in the contest. Kirkorov was directly involved in the entries from 2018, 2020, and 2021, though Sunstroke Project, who represented the country in 2017 and delivered Moldova's highest result to date, also occasionally find themselves in the singer's orbit. Famously, the reveal of Natalia Gordienko's entry for 2021, co-written by Kirkorov, took place not in Chisinau but in Moscow, in what appeared to be more of a celebration of Kirkorov's own Eurovision legacy than anything else.
Philipp Kirkorov with the members of DoReDos and their dancers in Lisbon, 2018 (source).
For context, Philipp Kirkorov is a household name in the Russian-speaking world and a controversial figure for a number of reasons, including his vocal support for Russia's invasion of Crimea in 2014 and radio silence on the current invasion of Ukraine (despite many of his colleagues in the Russian music industry speaking out against it).
The last few years, however, have seen a sea change in Moldovan politics. The pro-European Maia Sandu defeated the incumbent pro-Russian Igor Dodon in the 2020 presidential elections, and less than a year later, Sandu's Party of Action and Solidarity won an overwhelming majority of seats in parliament. In March of 2022, just a week after Russia invaded Ukraine, Moldova submitted a formal application to join the European Union, solidifying the country's political orientation toward the West.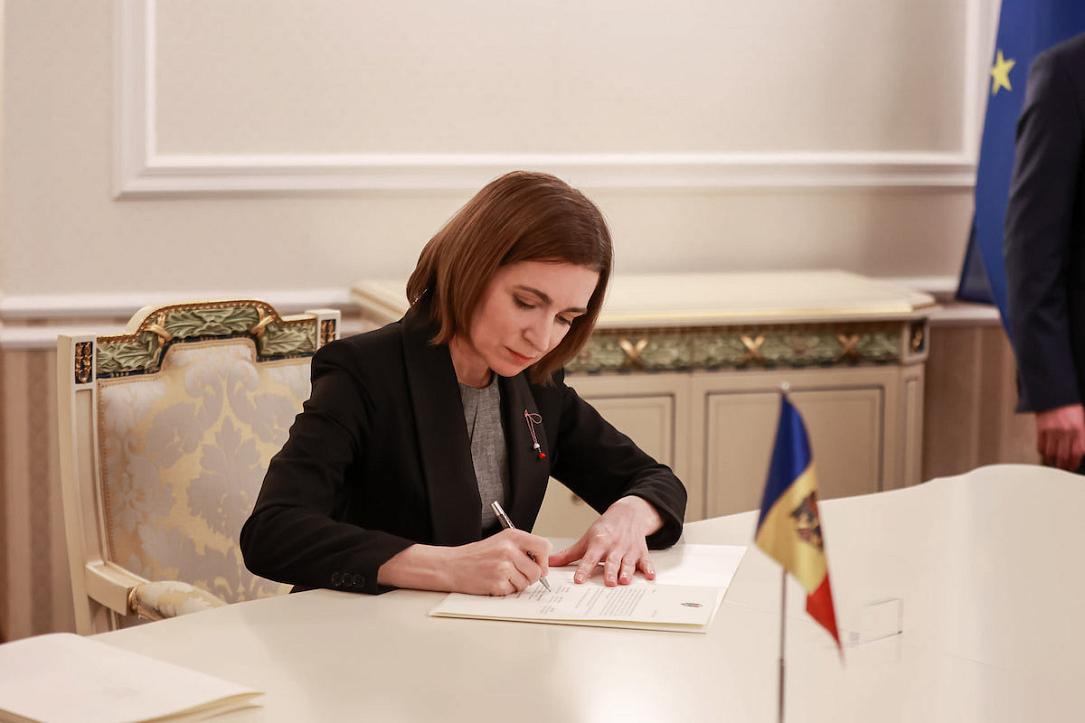 President of Moldova, Maia Sandu, signing the application to join the European Union (source).
It is in this context (prior to Russia's invasion, but during their troop buildup on the Ukrainian border) that the Moldovan national broadcaster, TeleRadio-Moldova (TRM), organized an internal selection process for this year's Eurovision Song Contest and selected none other than Zdob și Zdub, this time paired with the Advahov Brothers, to represent them with the song "Trenulețul".
If you had any doubt that "Trenulețul" might reflect a geopolitical pivot toward Europe, you might want to take a look at the lyrics. The central metaphor couldn't be a thinner veil for the song's message:
Merge trenul, parcă zboară,
Dintr-o țară-n altă țară.
Merge și nu poate pricepe:
Care țară? Unde-ncepe?
Țară veche, țară nouă,
Parcă-i una, parcă-s două.
Ba aparte, ba-mpreună,
Parcă-s două, parcă-i una.
Hey how! Let's go!
Folklore and Rock'n'roll.
Pleacă trenul! Unde eşti?
Chișinău – București.
The train's going, just like flying
From one country to another
It is going but confused:
What's the country? Are they fused?
Is it old or is it new?
Seems like one, but also two
Both together and apart
Are there two? Or just one part?
Hey ho, Let's go!
Folklore and Rock'n'roll.
The train's route is East to West
Chișinău – Bucharest.
The train Chișinău to Bucharest (source).
The narrator is literally on a train from East to West, from Moldova into Romania (and thus, the EU) and questioning whether or not Moldova and Romania are really one country or two. That the song was selected internally, even though there was a publicly broadcast audition process, means that this is a message that the state-owned public broadcaster wants the rest of Europe to see. Add to that the fact that this is the first entry in Romanian that Moldova has sent since 2013, and it's sung by a band who is deeply intertwined with the country's Eurovision legacy, it's hard to imagine a clearer symbol of the country's current political shift.
Given the unpredictable nature of geopolitics in that part of Europe, Moldova's history as a borderland with shifting alliances may yet continue. Though pro-European sentiment is currently high, and Russian aggression has spurred closer ties with the EU, Moldova seeks to remain militarily non-aligned. Only time will tell whether this ticket from Chișinău to Bucharest is one-way or round-trip.